YADE certificate - Download
Contact Us
Address: HOUJIE Industrial Zone,Liushi town,Yueqing County,Wenzhou city,Zhejiang province
TEL:0577-27855777 27855776
FAX:0577-27855778 27855775
EMAIL:cnyade@126.com
HTTP:www.cnyade.com
Zip code:325604
Product name:DZ47LE-100
Product brand:Zhejiang YADE Electric Co. Ltd.
Product area: HOUJIE Industrial Zone,Liushi town,Yueqing County,Wenzhou city,Zhejiang province
Customer service:13706780110(Sales Manager)
Online consultation:
First, the scope
DZ47LE-125 series leakage circuit breakers ( 125A leakage circuit breaker ) for AC 50Hz or 60Hz, rated voltage 400V, rated current of 125A short circuit and overload protection following lighting distribution system or motor distribution system, product appearance compact, light weight, excellent performance and reliable breaking capacity high, tripping quickly, rail, housing and components of high fire-retardant and impact-resistant plastic, long life, under normal circumstances can be as infrequent conversion of the lines used, it can be installed over undervoltage, shunt release and other accessories, also applies to the isolating switch and a circuit and under voltage protection and remote disconnect purposes.


DZ47LE-125 leakage circuit breakers

in low voltage distribution systems have increasingly been used as a ground fault and direct contact, indirect contact shock of backup protection. The products are mainly used in building illumination and power distribution systems, in line with GB16917.1 and IEC61009-1 standards. Our company has passed the national CCC, CE certification.

& nbsp;
Second, model and specification
Third, the structural characteristics
DZ47LE-125

leakage circuit breaker is assembled by the leakage release from attachment and DZ47-125 miniature circuit breakers, earth leakage circuit breaker current action electronic leakage circuit breakers, mainly by the zero-sequence current transformer, electronic component board, leakage release and circuit breaker with overload and short circuit protection components.
Fourth, the main parameters and technical performance
◆ Main specifications:
◇ frame degree current: 63A, 80A, 100A, 125A
◇ technology is divided into: Two-wire unipolar, bipolar two-wire, three-pole three-wire, three-pole four-wire.
◆ Main technical parameters:
◇ mechanical and electrical life:
Electrical life: 4000 times, COSφ = 0.85 ~ 0.9;
Mechanical life: 2000 times; ◇ Operating frequency: In≤25A 240 times/h; In> 25A 120 times/h;
◆ insulation withstand voltage performance
◇ all connected together and between the neutral pole can withstand impulse voltage 6000V peak of;
◇ each pole and neutral pole connected together and between the metal stent can withstand peak 8000V

Rated voltage (V)
frame degree rated current (A)
Poles
Neutral
rated current of
Rated measuring electrical operating current
Rated measuring electrical non-operating current
Rated Short circuit breaking capacity
overvoltage setting value
measuring electrical operation time
trip type
230
125A
1
N
63,80,100,125
30,50,100,200,300 </td>
15,25,50,100,150
10KA
DZ47GQ-125
(280 ± 5%)
≤0.1
C, D
230
2
/
400
3
/
230/400
3
N
rated current
initial state
test current
specified time
Expected results
≤ 63
cold, hot
1.05ln
t≥1h
not tripping
> 63
t≥2h
≤ 63
cold, hot
1.30ln
t <1h
trip
> 63
t <2h
All value
cold
20ln
t <360s
trip
All value
cold
5ln ~ 10ln
t≥1s
not release
All value
cold
10ln ~ 20ln
t <1s
trip
Five, shape and installation dimensions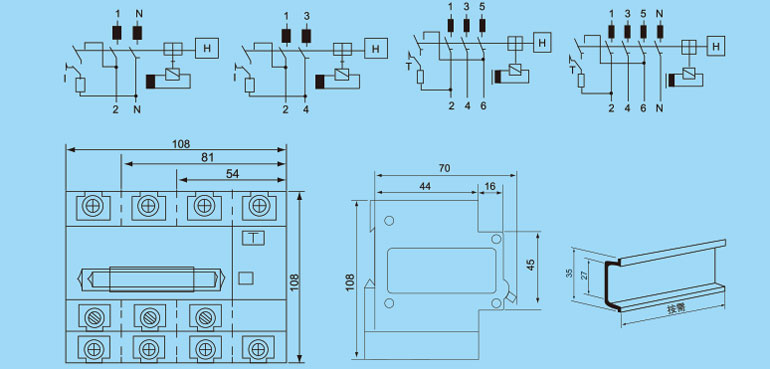 Six, Order Information
when ordering indicate the following points:
Product type and name: If DZ47LE-125 leakage circuit breaker /DZ47LE-125 leakage open space.
Instantaneous tripping Current Rating: such as 125A.
Breaker poles: as 3P + N.
Order number: as 365.
Ordering example: DZ47LE-125 leakage circuit breaker , 1P + N, 100A, 600 只.